Bernheimer Symposium: Leonard Cassuto and S.J. Rozan, The Kelly Writers House, U of Pennsylvania, November 10, 2009
A conversation about crime fiction (1:10:20/@3:19 video, KWH-TV) · intro only (8:04 video) · audio (1:10:20)


Indianapolis Marion County Public Library: Every Story is a Mystery, Oct 14, 2009
Presented by the Writers' Center of Indiana as part of their 'Be a Better Writer' series.
(1:21:05 video - 30 min lecture, 50 min Q&A; file size about 140 MB)


2009 National Book Festival, Washington, D.C., Sept 26, 2009
speaking on Genre Writing (30:59 video)


Video (0:38), Aug 2009, in Assisi for Art Workshop International
(Ms. Rozan will again be a Creative Writing instructor in 2012)


In the Shadow of the Master, ed. Michael Connelly; ISBN: 978-0061690396; Hardcover; William Morrow (Jan 2009); pp. 229-230, Edgar Allan Poe, Mark Twain, and Me (essay)
... they made me what I am today. From Twain I learned about character and narrative structure. And humor. Poe didn't have a lot of that. But from Poe I learned about language. The beauty of Poe's language still shines–I defy anyone to find a story more perfect in rhythm, cadence, and sound, sentence by sentence, than 'The Tell-Tale Heart' ...


Romantic Times Book Reviews, Destination: China, On the Silk Road Reflect(ion)s on China and the Earthquake, Issue #294, Aug 2008, p 19
... The epicenter was 800 miles away...first felt a slight shaking, which grew into a swaying...This lasted close to a minute, a long time in an earthquake, I'm told...had sea legs and didn't fall down in the swaying. I'm a New York City subway rider, so I felt right at home in a bizarre sort of way...we found out how big and far away it had been...how devastating it was ...


Mystery Readers Journal – The Ethnic Detective, Part I, Who's Ethnic?, Vol 23, No 1, Spring 2007


Femmes Fatales: A day in the life, guest blog, January 17, 2007
... annual physical for...the cat..a cat carrier, a grocery cart, the chance of running into -- oh horrors -- dogs; it wasn't pretty. But...it was distracting. I did...laundry...took a bunch of things to the dry cleaner. And the tailor. And the shoemaker. And Housing Works, where I donate all my gently-worn clothes. (The heavily-worn ones I donate to my cleaning bucket.)... And my biggest victory: I bought AND INSTALLED a new toilet seat! ...It's just as you suspected. The writer's life, it's a life of the mind, focussed on the thrills and calm satisfactions of creativity, blithely uninvolved with the tainted, mundane concerns of the marketplace ...


Atlantic Center for the Arts: residency statement, October, 2006


Crimespree Magazine: Conversation with Kate Stine, Issue #12, May/June 2006


New York Times: New York Numb, Sunday, March 12, 2006; archive link
"... When a crime is committed, only the victim and the victim's close circle experience the event as pain, terror, death. To people hearing or reading about it, crime is a metaphor, a symbol of ... evil versus good, chaos versus order. The crimes christened "iconic" are reminders that in these wars, good and order are not foreordained winners..."


Crimespree Magazine: Sports I Love This Game, Issue #3, Oct/Nov 2004


Blog humor: Pouncing on mice... (also read first 2 comments), then Wiseguys; Dec 2003


Mystery Readers Int'l: interview with Laura Lippmann, 2003


MysteryNet.com : Mystery Writer Job Requirements "How I Spent My Summer Vacation" 2003


Mystery News: interview with Qiu Xiaolong: Poetry in Prose, excerpt, Oct/Nov 2002


Mystery Scene Magazine: Essay New York, #76 Fall 2002, pp 46,47


New York Times: Insult to a City; letter dated May 15, published May 20, 2002
"To the Editor: John Tierney tells us (Big City column, May 14) that the editors of ..."


"These are the Places", pp 39 & 40 of 'The stories and libretto...'; contribution to The Ship that Lies at the Bottom, a concert theatre work with accompanying installation: music and libretto (incorporating original fiction by 21 authors), by Keith Snyder, April 2001


Mysterious Conversations: Interviews Robert B. Parker, by S.J. Rozan, at 92nd St YMCA, New York, Oct 17, 2000


New York Times: The Double-Life Crusade, letter to the editor, published June 18, 2000
As usual, Andrew Sullivan's argument contains a germ of truth; and as usual, Sullivan can't find it. The so-called...


Publishers Weekly, Interview – Sara Paretsky: A Gun of One's Own, Oct 25, 1999, p 44
"V.I. WARSHAWSKI, Sara Paretsky's Chicago-based private investigator, is that classic American invention, the hardboiled private eye. The fact that she's also a woman has, to her creator's disbelief, changed the face of crime fiction..."


January Magazine: on Ross Macdonald's impact, April 1999
"... showed us that tough guys could be lyrical ... understood that the family was the root of all emotion, and emotion the root of all crime ..."


World & I: Prisons With a Human Face, (link 2) article #20163, Jan 1992
Amid a general construction industry slowdown, one area that has not lost the momentum it picked up in the 1980s is the construction of correctional facilities. The National Council on Crime and Delinquency predicts that the number of inmates nationwide will reach two million by 1995...


World & I: Gwathmey Siegel's Instant Icons, (link 2) article #19516, Nov 1991
When New York City's Solomon R. Guggenheim Museum reopens this spring, it will have been seven years since the start of a major addition and renovation project, and eleven years since the architectural firm of Gwathmey Siegel & Associates first became involved in what turned out to be...


World & I: I.M. Pei: Master Architect, (link 2) (article #19810), May 1991, Vol.6 Iss.5, ending page:197
In more than four decades of architectural practice, I.M. Pei has done it all: the impossible (an addition to the Louvre), the enormous (Hong Kong's Bank of China Tower), the sparely elegant (the Shinji Shumeikai Bell Tower in Japan), and the grand...


World & I: Architecture for the Nineties, (link 2) article #18231, Oct 1990
As 1990s edge us into the twenty-first century, architecture in America is an art in transition. Stylistically, technologically, and organizationally the next steps for architecture and for architects are unclear. International Style modernism, which was supposed to be a style to end all styles...


World & I: Robert Venturi Goes for Messy Vitality, (link 2) article #17487, July 1990
Architecture has gone through vast changes in the past quarter century, and the direction it will take as we inch up to the new millennium is not clear. Post-modernism and Deconstructivism are the most recent movements to have captured...


World & I: So Calif Triumphant: The Architecture of Frank Gehry, (link 2) article #14825, Oct 1988
The architecture of Frank Gehry is the architecture of possibility. Created and nurtured in Southern California, America's Golden West where the sun never sets and everyone gets a second chance, Gehry's is an architecture that believes in the present and the future...


Architecture (journal of AIA): Sandstone, November 1986, Vol.75 No.11; pp 111-112
...It is important to recognize that deteriorated sandstone cannot be "repaired" and that although a sandstone building can be restored, restoration will always be at some cost to the original stone...


Architecture Technology; Feedback (to the editor): Testing Ground, Fall 1985, Vol.3 No.4, p 5
... Our primary task, as architects, is to keep all the balls in the air and develop solutions that simultaneously maximize considerations of function, esthetics, structure, cost, energy and the dozens of other issues that each design project, regardless of size, must embrace. It's hard enough when clients and critics insist on separating "design" from other architectural concerns, as though the integration of those concerns was not, itself, what design is. When we in the profession start to make those distinctions, we are beginning to lose sight of our central responsibilities and rewards.


New York Times: letter dated Feb 2, published Feb 11, 1983
To the Editor: Admiral Hyman Rickover (Op-Ed Jan. 30) is right: American society is poorly educated. Math and science capabilities are falling; literacy levels are...


The Cat, vol.1 no.3, April 1973; Marvel Comics, Cat Scratches (letters), p 31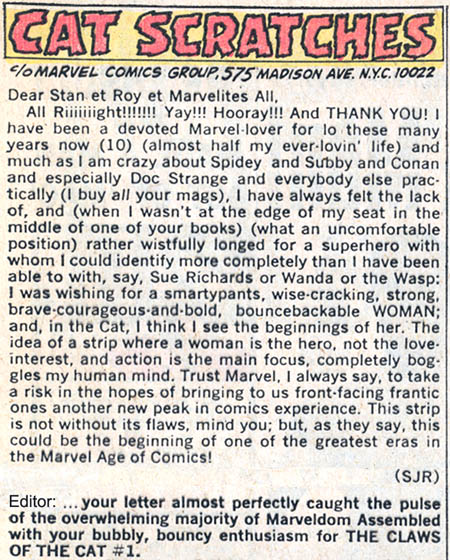 [ Ms. Rozan gave permission to post the letter, indicated some phrasing was Marvel dialogue, and said that it was her first documented published piece. ]

The glossary at the bottom of the page included the following 'translations'

KNOW YE THESE, THE HALLOWED RANKS OF MARVELDOM:
R.F.O. (Real Frantic One)— A buyer of at least 3 Marvel mags a month.
Q.N.S. (Quite 'Nuff Sayer) — A fortunate frantic one who's had a letter printed.
K.O.F. (Keeper Of the Flame) — One who recruits a newcomer to Marvel's rollickin' ranks.
F.F.F. (Fearless Front-Facer) — An honorary title bestowed for devotion to Marvel above and beyond the call of duty.


purchase SJ's pickles
... you know:
pickles,
as in difficult situations –
like what
always
happens in
crime fiction
!
December 7, 2012
Page URL: http://www.resourcepages.info/SJR/resc_by.html

Graphic/quoted content copyright © original date by author/publisher. All rights reserved.
Web page copyright © 2007-2012 by B.G. Ritts. All rights reserved worldwide.